Stock market news: US stock futures rise following wild week
Stock market news is improving since last Monday's plunge. A few companies announced acquisitions to start off this week's stock market news.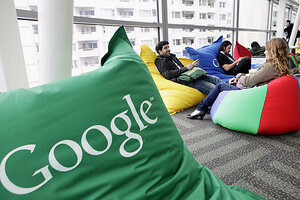 Marcio Jose Sanchez / AP / File
U.S. stock futures rose Monday, following Wall Street's wildest week since the 2008 financial crisis.
Companies announced a trio of acquisitions worth billions of dollars, Japan's economy shrank far less than economists expected last quarter and businesses continue to report stronger earnings.
Google Inc. said it will buy wireless phone maker Motorola Mobility Holdings Inc. for $12.5 billion in cash. It is by far the technology company's biggest acquisition. That sent shares of Motorola up 60 percent in premarket trading, but Google fell nearly 3 percent.
Time Warner Cable Inc. said it will pay $3 billion in cash for Insight Communications Co., which has more than 750,000 cable customers in the Midwest. In the energy industry, offshore driller Transocean Ltd. is buying Aker Drilling of Norway for $1.43 billion in cash.
Companies across the United States are sitting on a record amount of cash that they have built up since the recession ended. They have increased their cash reserves every quarter for more than two years, and businesses in the S&P 500 index were sitting on a total of $963.3 billion at the end of March, according to the most recent data from Standard & Poor's.
---