Warren Buffett right about taxes, says Obama
Warren Buffett said publicly that the super-rich are being 'coddled' by the US tax code. The president says he agrees with Warren Buffett.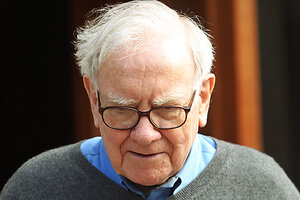 Anthony Bolante / Reuters / File
Small-town Americans probably don't make as much money as Warren Buffett, but they pay more of their income in taxes, President Barack Obama said Monday, citing the billionaire investor to argue that the government needs more revenues to balance the budget.
Obama referred to an opinion column written by the Berkshire Hathaway Inc chairman as he made the case to about 500 people at a town hall meeting in rural Minnesota that any attempt to close the U.S. deficit gap should include tax increases for the rich as well as spending cuts.
Cannon Falls was the first stop on Obama's three-state bus tour through middle America, intended to connect with voters as he embarks on his 2012 re-election campaign.
He plans to focus on jobs and the economy after a bitter debate in Washington over debt and deficits that triggered a downgrade in the U.S. credit rating.
``I put a deal before the Speaker of the House, John Boehner, that would have solved this problem.
---