Medicare payments: US encourages bundling
Medicare payments, if bundled, could save the US money. The agency that handles Medicare payments is trying to make incentives to base payments on the quality of care, not the quantity, says a government official.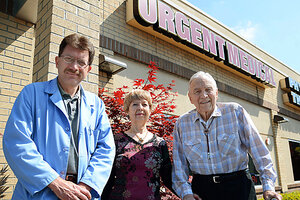 Logan Westom / The Columbian / AP / File
The U.S. agency that runs government health insurance is launching a program that would bundle insurance payments for multiple procedures in the hope of improving patient care while also saving money.
The Centers for Medicare and Medicaid invited providers Tuesday to help develop four models to bundle payments.
The program is meant to encourage hospitals, doctors and other specialists to coordinate in treating a patient's specific condition during a single hospital stay and recovery.
``Today Medicare pays for care in the wrong way,'' Health and Human Services Secretary Kathleen Sebelius told reporters on a press call.
``Payments are based on the quantity of care, and not on the quality of that care,'' she said. ``There is little financial incentive for the kind of care coordination that can help patients from returning to the hospital.''
The four models give providers flexibility on how they get paid and for which services, as well as give them financial incentives to avoid unnecessary or duplicative procedures.
``Hospitals and other providers recognize that they have to accommodate the current (fiscal) environment,'' said Nancy Foster, vice president for quality at the American Hospital Association, an industry group that represents hospitals and other providers.
---