Bank of America: Fireproof it with 'asbestos deal'?
Bank of America's woes are so large that it could take a page from the asbestos settlements trusts of more than a decade ago. Bank of America faces a raft of lawsuits claiming it knowingly sold them securities backed by shoddy home loans.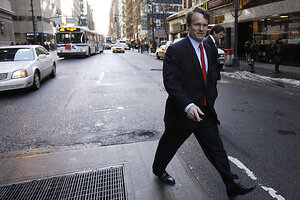 Jessica Rinaldi/Reuters
It worked for asbestos so why not for toxic mortgages?
When some look at all of the litigation arising from Bank of America's big role in the U.S. mortgage mess, they start thinking of asbestos and how thousands of lawsuits arising from that cancer-causing product brought down many manufacturers more than a decade ago.
The solution back then to dealing with claims filed by more than 750,000 workers exposed to asbestos was the creation of dozens of "asbestos settlement trusts," which have paid out tens of billions dollars in damages. Some of them are still going strong today.
The asbestos trusts were seen as an innovative approach to deal with seemingly endless litigation and provide a measure of compensation to sick workers and their families. The system for dealing with claims also allowed some of the hobbled manufacturers to emerge from bankruptcy largely free of the crushing weight of lawsuits.
Now some investors in soured mortgage-backed bonds sold by Bank of America and advocates for struggling homeowners are wondering whether a similar strategy can be used to deal with litigation claims that Wall Street analysts estimate could cost the nation's biggest bank more than $50 billion.
"We've suggested an asbestos-style settlement as a solution. It makes the most sense," says Vincent Fiorillo, a portfolio manager with DoubleLine Capital, a $15 billion bond shop that has its own pending claims against the Charlotte, North Carolina-based lender. "It is better than where we are right now."
The idea of using the asbestos litigation wars as a model for dealing with the fallout from the financial crisis is more talk than anything else. There's no indication an asbestos-style litigation trust is something Bank of America is actively considering at the moment.
But efforts to find a creative solution to Bank of America's multi-pronged exposure to Countrywide's ailing mortgage portfolio become more urgent with each downward tick in the bank's already depressed share price.
On Wall Street, once extreme ideas - such as spinning off the bank's Merrill Lynch investment arm to raise additional capital or placing all of its rotting mortgages into a so-called bad bank managed by federal regulators - are being bandied about quite freely. Calls to break up Bank of America are no longer just idle chatter of hedge fund traders selling short its shares.
Just this week, Chris Whalen, a bank analyst and co-founder of Institutional Risk Analytics, was out calling for a Chapter 11 restructuring of Bank of America.
"You need to do something radical, which changes the framework so people can start thinking with their brains again," says William Black, an associate professor of law and economics at the University of Missouri-Kansas City School of Law and former litigation director of the old Federal Home Loan BankBoard during the run-up to the savings and loan crisis of the 1980s.
So far, Bank of America's management has shied away from drastic measures and instead has begun taking a variety of incremental steps to assure Wall Street it has adequate capital to deal with the onslaught of mortgage-related lawsuits from bond investors, the American International Group , theFederal Housing Finance Agency and others. In August, the bank got a badly needed $5 billion cash infusion from Warren Buffett that helped stop the stock's 49 percent slide this year. It quickly followed-up that deal by selling half of its stake in China Construction Bank for $8.3 billion.
Chief executive officer Brian Moynihan is also mulling a plan to eliminate tens of thousands of jobs over the next several years. On Tuesday, he began a management shuffle by ousting two top executives,Sallie Krawcheck and Joe Price. Analysts expect even more structural changes in the coming weeks, as Moynihan seeks to give a jolt to the bank's beaten down stock, currently trading around $7.
The bank has set aside more than $15 billion in litigation reserves and contends it is well-positioned to defend itself against the wave of mortgage-related lawsuits. It is bracing itself for a war of attrition with mortgage bond investors, who claim the bank and its Countrywide subsidiary sometimes knowingly stuffed those securities with shoddy home loans. A bank spokesman declined to comment on whether it would consider an asbestos-style trust to deal with mortgage-related claims.
A Federal Reserve spokesman also declined to comment.
FRESH START
This is not the first time that some have talked about a litigation trust as a mechanism to deal with some of Wall Street's liability arising from the collapse of the U.S. housing market. In the early days of the financial crisis, regulators discussed the merits of using an asbestos-style trust to resolve potential litigation claims against the biggest U.S. banks. But regulators ultimately rejected the trust concept along with other novel ideas that were deemed either unworkable or politically untenable.
One appeal to a trust solution, according to proponents, is that it would be a way for a bank to essentially hive off its litigation liability and establish a mechanism for dealing with claims and litigation. The advocates suggest it would be a way for Bank of America to get a "fresh start" without involving a bankruptcy or a Federal Deposit Insurance Corporation-imposed receivership.
But an asbestos trust is no magic bullet either. The insurance industry continues to be plagued with new asbestos-related claims years after the trusts were created. Credit rating agency Moody's Investors Service recently said after asbestos being a "back burner" issues for years, the U.S. insurance industry is recently seeing an uptick in new asbestos claims.
---