Ruth Madoff: 'What's a Ponzi scheme?'
Ruth Madoff spoke to '60 Minutes' about her husband, Bernard Madoff, who was convicted of one of the biggest financial frauds in history. Ruth Madoff, and son Andrew, said that they didn't know about the $65 billion Ponzi scheme.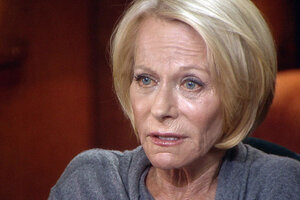 (AP Photo/60 Minutes)
The wife and son of financial swindler Bernard Madoff said in their first broadcast interview Sunday that they knew nothing of his estimated $65 billion Ponzi scheme, but feel shame for his "unforgiveable" crime.
Madoff, 73, is serving a 150-year prison sentence after confessing to running a decades-long scheme that bilked investors out of billions, considered the biggest financial fraud in history.
Defrauded Madoff investors have long viewed the convicted swindler's sons, wife and other family member suspiciously, arguing it is impossible that they did not know about his lies. No family members have been criminally charged.
Madoff's younger son Andrew told the CBS program "60 Minutes" that the family was shocked when his sobbing father confessed his crime to them in December 2008. He said his mother Ruth's first question was "What's a Ponzi scheme?"
"She didn't even understand that. I think it was me who answered and said that "It means that it's all fake,'" Andrew Madoff said. "(Bernard Madoff) followed that up and said 'Yes, I've been lying to all of you - all of these years. I've been lying to everybody. I've been lying to myself.'"
Mark and Andrew Madoff -- who worked at their father's firm -- turned him into authorities and he was arrested on December 11, 2008.
---