Bankruptcy threat pushes Kodak to ditch patents, endangering websites
Bankruptcy could be avoided through a patent sell-off. But will Kodak's bankruptcy dodge further threaten photo-sharing websites?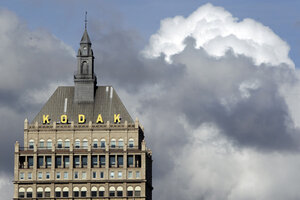 David Duprey/AP/File
A patent dispute is unfolding between Kodak and photo-sharing site Shutterfly that could have ramifications for some of the broader photo-sharing sites on the web, such as Yahoo's Flickr, the widely-used Picasa by Google, and Facebook's Photos feature.
Kodak has filed a lawsuit against Shutterfly over five patents it claims Shutterfly's online services are infringing on. Shutterfly is a popular way for people to purchase print photo books, stationery, and calendars out of their personal photos. Shutterfly has denied the claims and filed a counter-suit against Kodak over the company's own Kodak Gallery Software.
The lawsuit could grow more complicated as Kodak prepares to sell off many of its patents, in a push avoid bankruptcy.
Kodak claims to have over 400 patents in the space and has possibly made Shutterfly its initial target because it makes for an ideal opponent — the publicly-traded Shutterfly is much bigger than a private-owned startup in the space but doesn't have the deep pockets of giants like Google and Facebook to fully challenge such a lawsuit.
---