Groupon IPO sets market value at $12.7 billion
Groupon IPO: the daily deals company priced its initial public offering at $20 per share after the market closed on Thursday.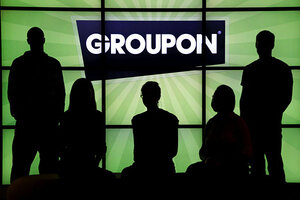 Charles Rex Arbogast/AP/File
Daily deals pioneer Groupon priced its initial public offering late Thursday at $20 per share.
The price gives Groupon Inc. a market value of $12.7 billion, making its IPO the second largest by an Internet company behind only that ofGoogle Inc. in 2004.
The price is above the expected range of $16 to $18, indicating investors are excited to buy the company's shares.
Groupon is expected to make its trading debut Friday on the Nasdaq Stock Market under the ticker symbol "GRPN."
The online search leader made its public debut at a market cap of $23.1 billion seven years ago. In comparison, LinkedIn Corp. went public in May with a market value of $4.3 billion and was worth $8.4 billion at the end of trading Thursday.
The pricing is a milestone in a process that served as a reality check for Groupon, a rapidly growing company that has evoked memories of the dot-com boom's exuberance. Coming at a time of worldwide market turbulence and deep economic woes, Groupon's IPO has been closely watched by fellow Web startups looking to follow a similar path.
It's a lofty appraisal for a service that started just three years ago, but a big comedown from the $25 billion estimate floated when the company filed its IPO plans in June, months after rejecting a $6 billion buyout offer from Google.
Groupon began in 2008 when computer programmer Andrew Mason figured out how to get people excited about the low-margin coupon business.
The company sends out daily emails to subscribers offering a chance to buy discount deals for anything from spa services to messenger bags to restaurant meals, provided enough people sign up for the deal. The company then takes a cut of what people pay and gives the rest to the merchant. Though some businesses see this as good advertising, others have complained that Groupon leaves them inundated with coupon-clasping bargain hunters who never return.
---