Occupy Day of Action sparks arrests nationwide
Occupy Day of Action led to several major protests, chiefly in New York City. But what did the Occupy Day of Action accomplish?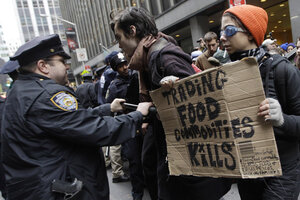 Mary Altaffer/AP
Hundreds of Occupy demonstrators marched through New York's financial district Thursday in an attempt to block traders from reaching the New York Stock Exchange, promising a national day of action with mass gatherings in other cities. The action came two days after authorities cleared their encampment that sparked the global protest movement against economic inequality and greed.
Frustrations seemed to spill over in the park at the center of the protest as hundreds of people shoved back the metal police barricades that have long surrounded the area. A live television shot from above showed waves of police and protesters briefly pushing back and forth before the barricades appeared to be settled at the edge of the park once more.
"All day, all week, shut down Wall Street!" the crowd chanted, clogging the streets as they neared the stock exchange.
Police said about 50 or 60 people were arrested, including several who sat on the ground one block from Wall Street and refusing to move.
Some of the police hit protesters as they resisted arrest. Most of the marchers retreated.
The protest did not delay the opening of the New York Stock Exchange or disrupt business, said Rich Adamonis, a spokesman for the exchange.
In Los Angeles, about 500 sympathizers of the Occupy Wall Street protest marched in the downtown financial district, chanting "Banks got bailed out, we got sold out." Police took two protesters into custody. The national day of action had been planned before the city and park owners cracked down on the two-month-old encampment in Zuccotti Park, clearing out tents, tarps and sleeping bags. Similar camps have sprung up across the U.S. but face increasing pressure from local authorities, who point to health and safety concerns.
---