Payroll tax break: Keep it going, says Obama
Payroll tax break must be extended, the president said in New Hampshire on Tuesday. Failing to renew the payroll tax cut would hurt middle-class families, he argued.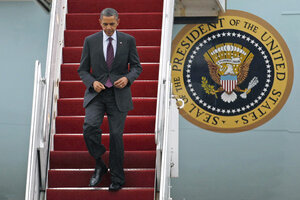 Jose Luis Magana/AP
President Barack Obama warned Tuesday a failure to extend a payroll tax break would hurt middle-class families, effectively daring congressional Republicans to increase taxes a year before the presidential election.
Speaking in the state that is home to the nation's first presidential primary, Obama sought to steal the spotlight from Republican presidential contenders who have blanketed the political battleground with anti-Obama messages.
"Don't be a Grinch. Don't vote to raise taxes on working Americans during the holidays," Obama said at a high school gymnasium.
Even as he sought to draw a bright line with Republicans over taxes, Obama was reminded about the unhappiness among some in the Occupy Wall Street movement. As he began to speak, Obama was briefly interrupted by protesters who chanted, "Mr. President — over 4,000 protesters, over 4,000 protesters, have been arrested."
Obama paused to let the demonstrators speak. "No, no, no. That's OK," Obama said. The crowd then sought to drown out the protesters with chants of "Obama!"
Working the crowd after the speech, Obama was handed a note from the protesters that amounted to a script of their chant. Captured in photographs, the note said peaceful demonstrators had been arrested while "banksters" destroy the economy "with impunity."
The note urges Obama to stop the assault on protesters' freedom of speech and says his "silence sends a message that police brutality is acceptable."
It's been nearly two years since Obama visited New Hampshire. And on Tuesday, he'll find a state that has shifted distinctly to the right since his 2008 victory. Recent polls indicate that, if an election between the two of them were held today, Obama would lose by roughly 10 percentage points to presidential hopeful Mitt Romney, who governed the neighboring state of Massachusetts.
---