Europe debt crisis: Germany denies 'elite' plan
Europe debt crisis solution would be joint-issued euro bonds. Germany denies reports that it has initial plans to solve Europe debt crisis with euro bonds issued by nations with triple A credit.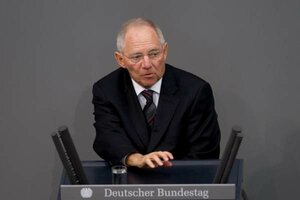 Thomas Peter/Reuters
Germany insisted Monday that it has no plans to float bonds together with the eurozone's five other triple A rated nations and use the proceeds to provide assistance to some of the single currency bloc's indebted members, such as Italy and Spain.
The Finance Ministry's denial came as the International Monetary Fund also dismissed reports it was planning a €600 billion bailout fund for Italy, and credit rating agency Moody's warned that the "rapid escalation" of Europe's financial crisis is threatening the credit worthiness of all eurozone governments, even the most highly rated. Only six of the eurozone's 17 countries have the top rating — Germany, France, Austria, the Netherlands, Luxembourg and Finland.
Despite the denials, the markets appear to be in a forgiving mood Monday. With the future of the euro hanging in the balance, according to many in the markets, there are hopes that the recent signs of deterioration in the debt crisis will finally get Europe's leaders to agree on a package of measures that can ease market concerns over whether the euro currency itself can survive. The Stoxx 50 of leading European shares was up 2.6 percent, while the euro was 0.6 percent higher at $1.3362.
One proposal that's often been touted as a long-term solution is the issuance of eurobonds, whereby the 17 euro nations pool together to raise money in the markets. However, Germany has opposed the principle of eurobonds since it would expose its taxpayers to the bad debt of weaker countries. As Europe's largest economy, Germany already funds the bulk of the existing bailouts.
---