MF Global bankruptcy: Exec says Corzine knew about missing money
At bankruptcy hearing, an MF Global executive said 'Mr. Corzine was aware' of misused customer funds. About $1.2 billion is still unaccounted for after the bankruptcy.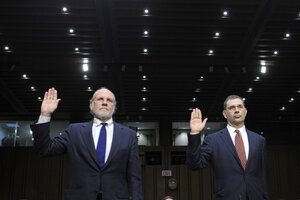 Susan Walsh/AP
A financial-exchange executive said Tuesday that Jon Corzine might have known that MF Global tapped clients' money to lend to a European affiliate of the firm.
CME Group Inc. Executive Chairman Terrence Duffy told a Senate panel he had received information that Corzine knew about a transfer of $175 million from customer accounts.
Corzine, a former U.S. senator, has testified that he did not know any customer money was missing until Oct. 30, the day before MF Global became the eighth-largest bankruptcy in U.S. history. About $1.2 billion of customer money was unaccounted for when the company collapsed.
According to Duffy, an MF Global employee told a CME auditor that "Mr. Corzine was aware" of the loan.
Duffy told the Senate Agriculture Committee that he has referred the matter to the Justice Department and the Commodity Futures Trading Commission, which are investigating MF Global's failure. Duffy said he received the information last weekend from CME Group attorneys who are investigating the matter.
MF Global traded on exchanges managed by CME Group.
Brokerage firms are required to keep client money separate from company funds. Depending on the circumstances, transferring money from customers' accounts could violate securities laws and, in some cases, could amount to a crime.
A Corzine representative had no immediate comment on the allegation.
---