Payroll tax vote blocked by Senate leaders. Bad sign?
Payroll tax measure should have been a quick vote, according to some in Congress. But the Senate will not vote on the House's payroll tax cut until they "finish our most immediate concern first," says the Senate minority leader.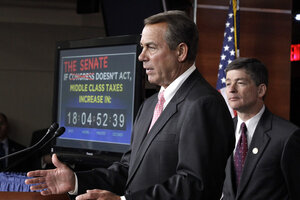 J. Scott Applewhite/AP
Congressional negotiations over a bill extending a payroll tax cut and unemployment benefits can begin as soon as the Senate rejects a version the House approved despite a White House veto threat, the Senate's top Democrat said Wednesday.
Senate Majority Leader Harry Reid wants his chamber to vote quickly on the House payroll tax bill, which includes Democratic-opposed spending cuts and language speeding work on an oil pipeline, to demonstrate how little support it has in the Senate. That could strengthen his hand in talks with House Speaker John Boehner, R-Ohio, over a compromise.
"The sooner we put this useless partisan charade behind us, the sooner we can negotiate a true bipartisan solution that protects middle-class workers" from a payroll tax increase, said Reid, D-Nev.
But Senate Minority Leader Mitch McConnell, his opposite number, refused Wednesday to let the chamber vote quickly on the House measure. The Kentucky Republican said the Senate should first vote on legislation financing the federal government, because a temporary bill keeping agencies open expires on Saturday, threatening a government shutdown.
"We ought to finish our most immediate concern first," McConnell said, adding that Reid should start negotiating with Boehner on the payroll tax bill immediately.
Reid would not allow a vote on the spending bill. Democrats worry that if Congress passes that measure first, it would ease pressure on Republicans to reach compromise on the payroll tax legislation.
---