Zynga goes public - investors eye CEO, growth potential with doubts
Zynga was the talk of the New York Stock Exchange when they rank the opening bell but after taking an immediate 5 percent hit, investors are reassessing Zynga as being overhyped.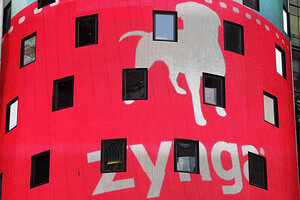 Mark Lennihan/AP
Online games developer Zynga Inc scored badly as it went public on Friday, dashing hopes for the year's hottest tech IPO, as investors frowned on its over-reliance on Facebook, dimming growth prospects, and outsized control by CEO Mark Pincus.
Zynga's stock fell 5 percent below its $10 initial public offering price to close at $9.50 on Nasdaq on Friday, dealing losses to IPO buyers used to racking up gains on a stock's first day of trading.
Investors had eagerly awaited the IPO as a way to get a slice of Facebook's growth before the leading social networking website goes public, possibly in 2012. Zynga makes money on Facebook by selling virtual items such as jewelry and poker chips in its games such as "FarmVille" and "CityVille."
At least one analyst said on Friday that some investors may have been turned off by Chief Executive Mark Pincus' large voting stake and control over the company. He has a special class of shares that grants him 37 percent voting power even though his equity stake is much lower, and public shareholders will have less than 2 percent of votes.
"We believe that having a CEO/owner-controlled board is particularly dangerous for investors in young companies," said Cowen and Co analyst Doug Creutz.
Creutz, who has a neutral rating on the stock, added that history is full of examples of CEOs who have built young companies but cannot manage them when they mature.
---