IRS 12 times more likely to audit millionaires than the rest of us
The IRS audited one in eight millionaires who filed taxes last year while only auditing 1 in 100 individuals earning less than $200,000 in an effort to "assure that there's equity in the system."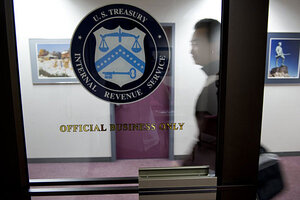 Ann Hermes/Staff
One in eight people earning at least $1 million annually was audited by the Internal Revenue Service last year, making them far likelier to be examined than those making below $200,000, according to IRS data released Thursday.
Just 1 in 100 individuals earning less than $200,000 had their income tax returns examined, the IRS said.
The 12 percent of millionaire earners audited in 2011 was appreciably higher than the 8 percent who were audited in 2010. IRS officials said the high ratio was part of an effort to demonstrate that tax laws are applied fairly.
"That has been something we've concentrated on to assure that there's equity in the system, to assure that those at the lower end of the spectrum know that those at the higher end of the spectrum are subject to the same rules and enforcement as everyone else," Steven Miller, deputy IRS commissioner for services and enforcement, said in an interview.
In recent weeks, President Barack Obama and congressional Democrats have sought to boost taxes on the wealthy as a way to pay for jobs programs, a theme they are expected to continue in this presidential and congressional election year. IRS spokeswoman Michelle Eldridge said the growing portion of millionaire earners' returns audited is not related to politics.
"The IRS is an agency of civil servants, and we base our audit decisions on tax issues — nothing else. We don't play politics here," she said.
Between 2004 and 2009, the percentage of millionaire earners audited ranged between 5 percent and 7 percent.
---