William Shatner 'dies' again. Bye-bye Priceline Negotiator.
William Shatner ends his 14-year run as Priceline pitch man in new ad, complete with fiery bus crash. The company is dropping William Shatner as it changes strategy.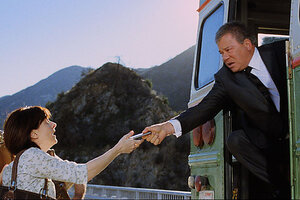 priceline.com/AP
William Shatner's stalwart Capt. James T. Kirk died in the line of duty. Now the "Star Trek" actor's bargain-touting Priceline Negotiator is headed heroically to his final frontier.
In a new 30-second TV spot for the travel site set to begin airing Monday, the Negotiator rescues panicked vacationers from a bus teetering on a bridge's railing.
"Save yourselves — some money," he says, handing his cellphone to a passenger as he and the bus tumble into a dry creek bed. A violent explosion, real and computer-generated, follows.
"I'm in grief mode," a droll Shatner said by phone Wednesday. "It's not the first time I've had an iconic character die off."
He's been a pitchman for Priceline for 14 years, five of those as the relentless Negotiator preaching the gospel of travel bargains. But an advertising change was needed to reflect the company's broader strategy, said Christopher Soder, CEO of Priceline.com North America.
"The challenge is harder to get people's attention than it used to be. ... So we decided to do something really over the top to get the message across," Soder said. The new spot will be on his company's website and, he hinted, may be part of next month's Super Bowl commercial extravaganza.
Shatner promoted Priceline as a site where travel prices are subject to bidding. But Priceline is also a set discount-price booking site for more than 200,000 hotels in 140 countries, an expanding service that is not widely known by consumers, Soder said.
---