$5 gas? Prices creep upward once again.
America could see $5 gas this year, as prices march toward $4 a gallon well before the annual summer spike. How much of the country could see $5 gas?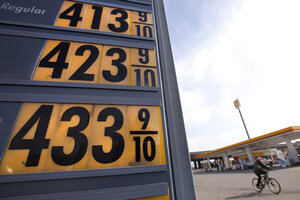 Ben Margot/AP
Pump prices continued to march toward $4 a gallon Thursday, as signs of a stronger U.S. economy helped push benchmark oil past $108 per barrel.
The price of West Texas Intermediate, the U.S. oil used as a benchmark, rose $1.22 to $108.28 a barrel in afternoon trading on the New York Mercantile Exchange. Brent crude, which is imported by many U.S. refiners to make gasoline, rose $2.58 to $125.24 a barrel in London.
Oil prices have risen 9 percent this year because global demand is high and supplies have been disrupted in South Sudan, Syria and elsewhere. There also is concern that tensions with Iran over its nuclear program could lead to further supply problems.
Meanwhile, U.S. retail gasoline prices continued a five-week rise to a national average of $3.74 a gallon. That's up 37 cents per gallon, or 11 percent, since late January, the last time gasoline prices fell. Prices have never been so high in the U.S. at this time of the year.
Wholesale gasoline futures rose nearly 2 percent to $3.32 per gallon, suggesting that retail prices will keep rising in the coming days. Typically gasoline prices rise in spring as demand rises and refiners begin to make expensive summer blends of gasoline required to meet clean air laws.
---