N.Y. Mets owners settle with Madoff trustee for $162 million (+video)
The ownership group of Major League Baseball's New York Mets has agreed to a settlement deal with the trustee trying to recoup billions of dollars in the wake of the Bernard Madoff Ponzi scheme.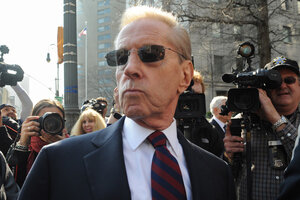 Louis Lanzano/AP
The New York Mets owners agreed to pay up to $162 million in a settlement announced Monday with the trustee for Bernard Madoff's fraud victims, a deal that left open the possibility they might pay much less and caused two principal team owners to emerge smiling from the courthouse.
"Stick with us," Mets chief executive and co-owner Fred Wilpon said outside court. "Now I guess I can smile. ... Maybe I can take a day off."
The agreement was announced by Judge Jed Rakoff just as a civil trial was set to begin in U.S. District Court in Manhattan to determine if the team's owners might owe as much as $386 million because they were among those who made significantly more than their original investment in Madoff's investment company.
The deal left Wilpon and team President Saul Katz, who together personally promised to pay $29 million, speaking confidently of the team's future.
Katz said outside the courthouse that the Mets were on secure financial footing. "Always was," he said.
The settlement gives the team breathing room because it does not require any money to be paid for at least three years. It also creates the possibility that the owners could owe nothing if they can secure $162 million of the $178 million they are seeking in claims of their own against the Madoff estate.
---