Euro debt crisis: Is Spain the new Greece?
Spain has become the focal point for Europe's debt crisis. But Spain isn't Greece. It's better – and worse.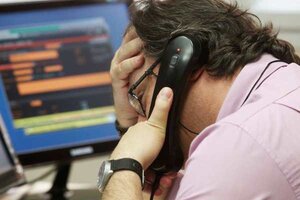 Andrea Comas/Reuters
Spain has emerged as the new Greece – the focal point for the euro zone's ongoing debt crisis. This week, that crisis has begun escalating again.
On Monday, interest rates on Spain's long-term debt rose above 6 percent, a level not seen since the last flare-up of the euro crisis. On Tuesday, Spain saw its costs of short-term borrowing nearly double from a month ago. Although investors snapped up its debt issues with enthusiasm, they demanded nearly twice the return that they did a month ago. Spain's 12- and 18-month government bonds went for an average yield of 2.6 percent and 3.1 percent respectively, up from 1.4 and 1.7 percent on March 20.
If its borrowing costs keep rising, then Spain will be unable to service its debt – a squeeze that has already forced Ireland, Portugal, and Greece to seek a bailout from the European Union. But Spain isn't Greece, it's far larger. The default of the euro zone's fourth-largest economy would shake confidence in the currency in a way that tiny Greece never could.
"Spain is a much bigger threat to the euro zone itself," says Mark Zandi, chief economist of Moody's Analytics, an economic research subsidiary of Moody's Corp. and based in West Chester, Pa. "If Spain goes, then the entire periphery [of the euro zone] will unravel."
---