Cage-free promise on Burger King pork, eggs by 2017
Cage-free promise: Burger King has pledged that all of its pork and eggs will come from cage-free chickens and pigs within the next five years. The Burger King cage-free promise marks a huge step in the shift toward more humane treatment of livestock.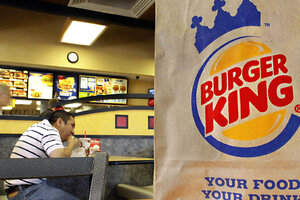 Seth Perlman/AP/File
The movement by U.S. food corporations toward more humane treatment of animals experienced a whopper of a shift Wednesday when Burger King announced that all of its eggs and pork will come from cage-free chickens and pigs by 2017.
The decision by the world's second-biggest fast-food restaurant raises the bar for other companies seeking to appeal to the rising consumer demand for more humanely produced fare.
"So many tens of thousands of animals will now be in better living conditions," said Wayne Pacelle, president of the Humane Society of the United States, which has been pushing Burger King and other corporations to consider animal welfare in purchasing policies. "Numerically this is significant because Burger King is such a big purchaser of these products."
The decision by Burger King, which uses hundreds of millions of eggs and tens of millions of pounds of pork annually, could represent a game-change in the egg and pork supply business as a huge new market has opened up for humanely raised food animals. Already 9 percent of the company's eggs and 20 percent of its pork are cage-free.
The Miami-based company steadily has been increasing its use of cage-free eggs and pork as the industry has become better able to meet demand, said Jonathan Fitzpatrick, chief brand and operations officer. He said the decision is part of the company's social responsibility policy.
"We believe this decision will allow us to leverage our purchasing power to ensure the appropriate and proper treatment of animals by our vendors and suppliers," he said.
Earlier this year, McDonalds and Wendy's announced that they have asked their pork suppliers to outline their plans for elimination of gestation crates without setting a timetable.
---