JPMorgan Chase shareholders to confront CEO Dimon
The nation's largest bank holds its annual meeting Tuesday in Tampa, Florida, where it's expected that some shareholders will ask Jamie Dimon to divest himself of one of his twin roles.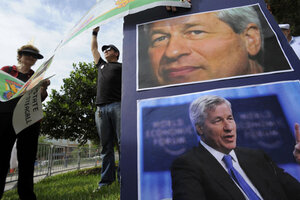 Brian Blanco/REUTERS
Shareholders of JPMorgan Chase & Co gathered in the hundreds on Tuesday for its annual meeting as pressure rises on the company and Chief Executive Officer Jamie Dimon over billions of dollars in trading losses.
The meeting, at the bank's back-office complex in Tampa, Florida, will give investors their first crack at Dimon, who is also JPMorgan's chairman, since he revealed a soured hedging strategy had cost at least $2 billion.
Nearly two hours before the meeting began, the company appeared to have a heavy turnout on its hands, with half of the 300-plus seats already filled and the potential for many more people to come. Security guards started taking shareholders' coffee cups and water bottles as the meeting drew nearer.
Shareholders will also vote on proposals like splitting the roles of chairman and CEO.
The California Public Employees' Retirement System, the largest pension fund in the United States, will lead calls to strip Dimon of the chairmanship in a move it said would probably lead to better risk controls.
"CalPERS believes if the chairman was independent the board may be able to exercise stronger oversight of management," the organization said in a note setting out its voting intentions ahead of the meeting.
The group, which owns around $565 million of JPMorgan stock, said it would support executive compensation proposals, but warned it would "closely review" the effects of the trading losses when analyzing the 2013 say-on-pay vote.
The two leading proxy advisory firms -- ISS and Glass, Lewis -- are already backing the nonbinding proposal calling for a split of the jobs of chairman and CEO.
---