Facebook IPO: Who's resisting Facebook and why
Four of every 10 Americans are not on Facebook. Will more join or has US growth peaked? Facebook IPO investors want to know: Can the resisters be persuaded to join the social network?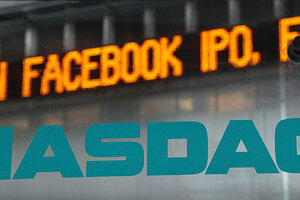 (AP Photo/Seth Wenig)
Don't try to friend MaLi Arwood on Facebook. You won't find her there.
You won't find Thomas Chin, either. Or Kariann Goldschmitt. Or Jake Edelstein.
More than 900 million people worldwide check their Facebook accounts at least once a month, but millions more are Facebook holdouts.
They say they don't want Facebook. They insist they don't need Facebook. They say they're living life just fine without the long-forgotten acquaintances that the world's largest social network sometimes resurrects.
They are the resisters.
RECOMMENDED: Facebook IPO: Five things to know before buying
"I'm absolutely in touch with everyone in my life that I want to be in touch with," Arwood says. "I don't need to share triviality with someone that I might have known for six months 12 years ago."
Even without people like Arwood, Facebook is one of the biggest business success stories in history. The site had 1 million users by the end of 2004, the year Mark Zuckerberg started it in his Harvard dorm room. Two years later, it had 12 million. Facebook had 500 million by summer 2010 and 901 million as of March 31, according to the company.
That staggering rise in popularity is one reason why Facebook Inc.'s initial public offering is one of the most hotly anticipated in years. The company's shares are expected to begin trading on the Nasdaq Stock Market on Friday under the ticker symbol "FB". Facebook is likely to have an estimated market valuation of some $100 billion, making it worth more than Kraft Foods, Ford or Disney.
---