Philadelphia Mint reveals how it makes 12 pennies per second
Philadelphia Mint reopens to the public with a $3.9 million self-guided tour. This was the first update to the Philadelphia Mint tour since 1969.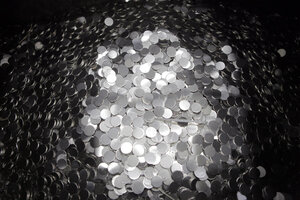 Brynn Anderson/AP
The last time the U.S. Mint in Philadelphia upgraded its public exhibits, Richard Nixon was in the first year of his presidency and The Beatles had just performed their final concert.
On July 3, the Philadelphia Mint opens to the public with a new $3.9 million self-guided tour that is the first update since 1969. The two-level exhibit includes displays of artifacts and coins from the Mint's earliest days, as well as windows overlooking the production floor with new touch screens and interactive features that describe the coin-making process.
"I hate to use the term embarrassment, but it was an embarrassment," Mint spokesman Tom Jurkowsky said of the Woodstock-era former exhibition. "What we do touches every American, and the people who work here have pride and passion in what they do, and we wanted to tell that story."
The first level of the exhibit highlights the Mint's history with artifacts from enormous bullion scales and coin presses to oversized coin design mock-ups sculpted by the Mint's team of staff artists. Also on display are elaborate iron gates from the former Mint building in Philadelphia that operated from 1901 to 1968.
---