Facebook's earnings disappoint investors, match predictions
In its first earnings report as a publicly traded company, Facebook indicated its growth is slowing and profit margins are smaller than last year at this time. One analyst says, 'Facebook is no Google.'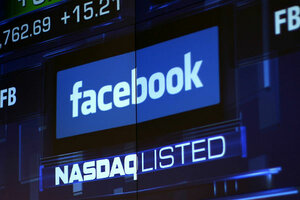 REUTERS/Eric Thayer/Files
Facebook issued its first earnings report as a publicly traded company on Thursday, with numbers that managed both to match analysts' predictions and dismay investors who were hoping for a great deal more.
The world's leading social network announced results for its last quarter that confirmed its revenue growth is slowing and its profit margin is smaller than a year ago. And even though top executives voiced high hopes for selling new kinds of "social" advertising, investors drove Facebook's stock price down in after-hours trading — to its lowest point since a controversial Wall Street debut that also disappointed investors.
"The bottom line of this call is that Facebook is no Google," said Karsten Weide, a social media analyst with the IDC research firm. Internet search giant Google reported its profit and sales both doubled in the first earnings period after its 2004 stock market debut.
Facebook said its revenue grew 32 percent from a year ago, as the company took in $1.18 billion for the quarter ending in June. The company had a net loss of $157 million, after taking $1.3 billion in charges for employee stock grants. After factoring out those one-time charges, Facebook reported earnings of 12 cents a share.
The results were just slightly better than analysts had forecast. Analysts surveyed by Thomson Reuters predicted, on average, that Facebook would report earnings of 12 cents a share, excluding one-time charges, on revenue of $1.15 billion.
But in terms of growth, Facebook was unable to match the 107 percent revenue increase that it reported a year ago. And while Facebook reported 955 million monthly active users, up more than 25 percent from a year ago, that fell short of the 50 percent increase in users the company reported in July 2011.
---