Wal-Mart rethinks overseas strategy, nixes planned stores
Wal-Mart will slow its growth in China and Brazil in an effort to make current stores more profitable.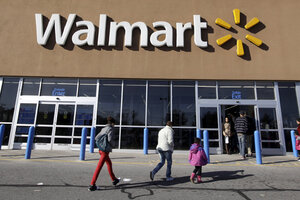 Elise Amendola/AP/File
Wal-Mart Stores Inc. reported a 5.7 percent increase in second-quarter net income and raised its outlook for the year as the world's largest retailer continues to woo back frugal shoppers by re-emphasizing that it has the lowest prices on everything from clothes to electronics.
But Wal-Mart said Thursday that its total revenue came in short of Wall Street estimates, and the discounter announced that it would delay store expansion plans in Mexico, its largest international division, as it deals with bribery charges there. Investors, who had sent the stock up 25 percent since mid-May, pushed shares down more than 3 percent on the news.
Wal-Mart is considered an economic bellwether because the retailer accounts nearly 10 percent of nonautomotive retail spending in the U.S. The company said its customers are still being squeezed by economic problems in the U.S. and abroad. In the U.S., Wal-Mart's low-income shoppers are still having trouble stretching their dollars to the next payday, and that financial duress escalated overseas in the latest quarter. The company said what's helped it is a focus on low prices.
"I don't think the economy is helping us," Charles Holley, Wal-Mart's chief financial officer told reporters during a conference call. "Our customer is still very concerned about employment."
Still, Wal-Mart's results offer optimism that the company's namesake U.S. business has turned a corner. Wal-Mart, which thrived during the U.S. recession as more well-off people started shopping at its stores here, had begun to struggle as the retailer's core low-income customers were hit hard by joblessness and other challenges in a slow economic recovery.
---