Austerity protests in Greece turn violent
Austerity protests as part of a general strike in Greece turned violent Wednesday as police clashed with protestors. The austerity protests have already closed schools and disrupted flights.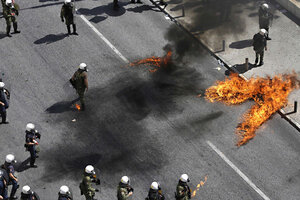 Dimitri Missisnis/AP
Police clashed with protesters hurling petrol bombs and bottles in central Athens Wednesday after austerity protests called as part of a general strike in Greece turned violent.
Riot police used tear gas and pepper spray against several hundred demonstrators after the violence broke out near the country's parliament. Protesters also set fire to trees in the National Gardens and used hammers to smash paving stones and marble panels to use as missiles against the riot police.
About 50,000 people joined the union-organized march in central Athens on Wednesday, held during a general strike against newausterity measures planned in the crisis-hit country. The action, the first large-scale walk-out since the country's coalition government was formed in June, closed schools and disrupted flights and most services.
Everyone from shopkeepers and pharmacists to teachers, customs workers and car mechanics joined the demonstration, seen as a test of public tolerance for more hardship after two years of harsh spending cuts and tax hikes.
"People, fight, they're drinking your blood," protesters chanted as they banged drums.
As the strike got under way Wednesday, Greece's prime minister and finance minister hammered out a €11.5 billion ($14.87 billion) package of spending cuts demanded by the country's international lenders.
Greece's politicians have struggled to come up with more austerity measures that would be acceptable to its rescue creditors, with disagreements arising between the three parties that make up the coalition government. The country has been dependent on international loans from other eurozone countries and the International Monetary Fund since mid-2010. Without them, Greece would be forced into a chaotic default on its debts and possibly into an exit from the 17-country bloc that uses the euro.
---