Burger King spitting suit: Racism in a Whopper Jr.? (+video)
Burger King spitting suit settled out of court: A black man claimed in a federal lawsuit that a white Burger King employee in Pennsylvania spit on his burger. Burger King argued there was no evidence. A judge disagreed.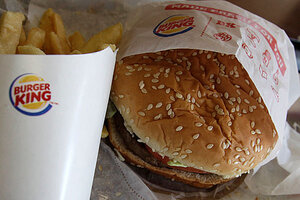 (AP Photo/LM Otero, File)
A Burger King franchise in Pennsylvania settled a lawsuit out of court with a black Ohio truck driver who claimed that his Whooper Jr. was served with spit.
Glenn Goodwin settled the civil rights lawsuit with Fast Food Enterprises #3, which operates the Burger King franchise on Interstate 90 in Fairview, Penn.
Goodwin's suit claimed that the spitting was racially motivated. He said he was the only black customer in the Burger King on Nov. 11, 2008 when he ordered a burger.
According to GoErie.com, "Goodwin said he saw the male employee retrieve Goodwin's wrapped burger from a chute, then turn his back and unwrap the sandwich.

A restaurant manager, Goodwin said, stood by the employee as if he were trying to shield the employee from Goodwin's view. The manager said, "nice," as the worker handled Goodwin's food, Goodwin said.

Goodwin said he took the food to his truck. He said when he bit into the hamburger, he realized it had been tampered with….He said he went into the restaurant and asked who spit on his sandwich and someone named "Greg" was identified.

Goodwin complained to state police, whose tests showed the presence of saliva on the outside and inside of the sandwich, according to court records. The burger was thrown out by police before further DNA testing could be performed to determine whose saliva was on the sandwich, according to court records."
---