Super Bowl crisis? Chicken-wings shortage looms
Chicken wing consumption is second only to Thanksgiving on Super Bowl Sunday. But this year, high feed prices have left the US with a smaller chicken crop, and therefor, fewer chicken wings available.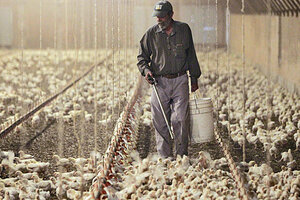 (AP Photo/Atlanta Journal-Constitution, Bob Andres)
It doesn't take much to start a furor with foodies, no matter how retrograde their tastes may be. Last fall, it was the pork industry crying wolf about an anticipated shortage of ham and bacon because of feed crops decimated by drought. This year, it's the National Chicken Council taking Mother Nature and the federal government to task for a shortfall in the production of chicken wings that will hold consumption to 1.23 billion wing segments during the 2013 Super Bowl, 12.3 million less than last year.
It's not that our appetite for these zesty, protein-rich snacks has diminished. Quite the contrary, said Bill Roenigk, chief economist and market analyst at the National Chicken Council, a Washington, D.C.-based trade group.
"Chicken companies produced about 1 percent fewer birds last year, due in large part to record high corn and feed prices," Roenigk said. "Corn makes up more than two-thirds of chicken feed and corn prices hit an all-time high in 2012, due to two reasons: last summer's drought and pressure from a federal government requirement that mandates 40 percent of our corn crop be turned into fuel in the form of ethanol. Simply put, less corn equals higher feed costs, which means fewer birds produced."
And Americans are serious about their chicken wings, no more so than during Super Bowl weekend, the second-biggest eating day of the year—Thanksgiving is still tops with gourmands. If those 1.23 billion chicken wing segments were laid end to end, they would stretch between the San Francisco 49ers Candlestick Park and the Baltimore Ravens M&T Bank Stadium 27 times.
The vast majority of wings, especially those destined for restaurants, are disjointed, with the third joint (the thin part known as the flapper) being exported to Asian countries and the meatier first and second joints being sold in the U.S. The wing is usually split into two parts — or portions or segments — known as the "drumette" and the midsection or "flat" and sold to restaurants or retail grocery outlets.
The wholesale price of wings will be the most expensive ever during Super Bowl XLVII as demand rises and the supply shrinks. Wings are also currently the highest-priced part of the chicken — the wholesale price for wings is currently about $2.11 a pound in the Northeast, the highest on record at the U.S. Department of Agriculture, up 22 cents or 12 percent from a year earlier.
---