Android app offers a super-secret burner phone number
The new Hushed app for Android lets Android owners create disposable, fake, fully functional phone numbers usable in 40 countries on five continents.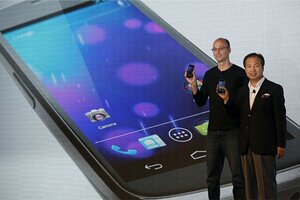 Bobby Yip / Reuters / File
Are you a drug dealer? A spy? Or perhaps just having an affair while traveling overseas?
Whatever the case, the new Hushed app for Android lets you create disposable phone numbers that you can use in 40 countries.
It's similar to the Burner app for iPhones, except that Hushed transmits calls over data connections rather than over regular phone lines.
Hence, Hushed's creators say the app works in most of western and central Europe, Mexico, Australia, New Zealand, Japan and South Africa, instead of just the U.S. and Canada. (It also apparently works in Bahrain, where the government has spied on dissidents.)
"Hushed is perfect for dating, job searches, short-term projects, Craigslist, Twitter, Tumblr and other social media, and for whenever else you want to be in touch and want to keep it on a private line, or don't want to give out your real number," says the official app description in Google Play.
---