Horse meat in lasagna, burgers, meatballs
After horse meat was found in 11 of 18 tested lasagna products, the UK's Food Standards Agency ordered further testing of "all beef products, such as beef burgers, meatballs and lasagna."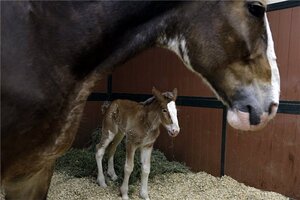 Jeff Roberson / AP
Horse meat made up more than half of the "beef" in some recalled beef lasagna products, food safety authorities in the United Kingdom said Thursday. It was the latest revelation in a growing scandal surrounding the use of horse meat and the mislabeling of meat products in Europe.
Frozen-food company Findus recalled their beef lasagna meals earlier this week after French supplier Comigel raised concerns that the products didn't "conform to specification." The UK Food Standards Agency said the lasagnas were tested as part of an ongoing investigation into mislabeled meat.
Already this month, millions of burgers have been taken off shop shelves as it emerged that beef products from three companies in Ireland and Britain contained horse DNA.
Eighteen beef lasagna products were tested by Findus, which found that 11 contained horsemeat in the 60 to 100 percent range, the Food Standards Agency said. It would not say if any of the meals were 100 percent horsemeat.
The agency said there's no evidence yet of a food safety risk, but added that tests have been ordered on the lasagna to see if it contains the veterinary drug phenylbutazone. Animals treated with phenylbutazone are not allowed to enter the food chain because it may pose a risk to human health, the agency added.
People who had purchased the meals were advised not to eat them but to return the products to the shops they were bought from.
---