Federal Reserve uncertainties drive down Asian markets
Transcripts from the Federal Reserve's January meeting were made public Wednesday. These documents showed growing doubts about the longevity of the U.S. central bank's bond buying program, which has kept interest rates at record lows.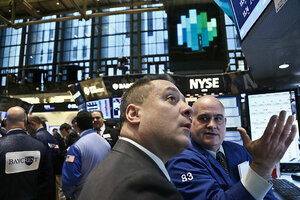 AP Photo/Bebeto Matthews
Expressions of doubt by Federal Reserve policy makers about the massive bond-buying program they launched to help stimulate the U.S. economy caused Asian stock markets to fall Thursday.
Transcripts from the Fed's latest meeting, released Wednesday, showed some policy makers are worried that the bank's $85 billion in bond purchases each month could eventually unsettle financial markets or cause the central bank to take losses.
The Nikkei 225 in Tokyo fell 0.8 percent to 11,376.28. Hong Kong's Hang Seng tumbled 1.5 percent to 22,966.03. Australia's S&P/ASX 200 fell 1.4 percent to 5,025.60. South Korea's Kospi dropped 0.4 percent to 2,017.22. Benchmarks in Singapore, Taiwan, mainland China and New Zealand also fell. Indonesia's rose.
---