Baseball fan can sue: Jury will decide risk of watching ball
An injured baseball fan can sue for damages, ruled the Idaho Supreme Court today. The fan lost an eye after being hit in the face with a foul ball at a minor league game.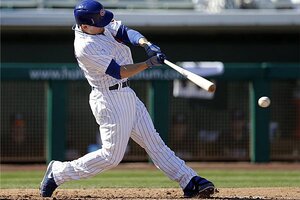 Morry Gash / AP
A man who lost an eye after being hit by a foul ball at a baseball game can seek damages from a minor league team in Idaho.
The Idaho Supreme Court decided not to impose the "Baseball Rule" of liability in the lawsuit brought by Bud Rountree, instead choosing to let a jury decide if watching baseball is an inherently dangerous activity done at the spectator's own risk. Rountree was struck by a ball while watching the Boise Hawks, a Chicago Cubs farm team.
Loyola Law Sports Institute Director Daniel Lazaroff said the decision was a rare strikeout for the Baseball Rule, which has been adopted by courts in Massachusetts, New York, Michigan and elsewhere. But he said the Idaho court made the right call in finding the legislature should decide if stadium owners deserve special legal protections.
The rule has several iterations, but basically holds that stadium owners can't be held liable if fans are injured by thrown or batted balls. Frequently, ticket stubs to sporting events will be printed with a disclaimer saying the holder assumes all risks associated with ball-related injuries, as was the case in the Idaho lawsuit.
---