Why Time Warner is spinning off magazine unit
Spinning off its magazine company into a separate entity will give Time Warner freedom to focus on TV and movies, explained the company's CEO in a statement released Wednesday. Shareholders have urged the move as increasing internet advertising challenged the magazine business in recent years.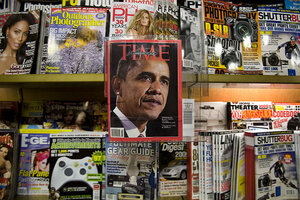 AP Photo/Mark Lennihan, File
Time Warner Inc. said Wednesday that it will spin off the magazine unit behind Time, Sports Illustrated and People into a separate, publicly traded company by the end of the year, ending a media marriage that has lasted more than two decades.
CEO Jeff Bewkes said in a statement Wednesday that the decision to split off the Time Inc. magazine company will give Time Warner "strategic clarity" and enable it to focus on its TV networks including TNT, HBO and CNN, and its Warner Bros. studio, which produces movies and TV shows.
He said the move would create value for shareholders, similar to the company's previous spin-offs of Time Warner Cable and AOL.
In recent weeks, Time Warner had been in talks to combine all of Meredith Corp.'s magazines with Time Inc.'s lifestyle titles such as People, InStyle and Real Simple. But talks broke down over a value for the combined company and over which magazines from Time Inc. would be included in the mix, according to a person familiar with the matter. The person was not authorized to speak publicly and spoke on condition of anonymity.
---