Zombie foreclosures: 300,000 'undead' properties stalk ex-owners
Zombie foreclosure: (noun) A home whose owner has abandoned the property but which the bank never finished foreclosing upon, leaving the owner legally and financially responsible for the decaying building.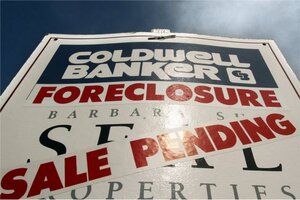 Don Ryan / AP
A national survey found 301,874 "zombie" properties dotting the U.S. landscape. To qualify as a zombie, the home must be abandoned by its former owner, leaving a vacant property susceptible to vandalism and degradation.
Florida tops the list of zombie properties with 90,556 vacant homes in foreclosure, according to a foreclosure inventory released on Thursday by RealtyTrac, a real estate information company in Irvine, Calif.
Illinois and California ranked a distant second and third with 31,668 and 28,821 zombie properties respectively.
The number of homes overall in foreclosure or bank-owned rose by 9 percent to 1.5 million properties nationally in the first quarter of 2013 compared to a year ago, according to RealtyTrac.
Another 10.9 million homeowners nationwide remain at risk because they owe more than their property is worth, according to company vice president Daren Blomquist.
RealtyTrac for the first time analyzed data on zombie properties after a Reuters special report in January examined the special problem of zombie titles, Blomquist said.
Reuters revealed the plight of people who walked away from their homes not realizing that their names remained on the deed and that they were financially liable for taxes and other bills related to the abandoned property.
In some cases, homeowners vacated after receiving a notice from the bank of a planned foreclosure sale, only to find out later the bank never followed through.
Zombie properties can be easy to spot as they deteriorate into neighborhood eyesores and havens for criminal activity.
---