Debtors' prisons: Thrive or serve jail time?
Debtors' prisons thrive in some states, despite being illegal. In Ohio, several courts have been imprisoning poor people who cannot pay their debts.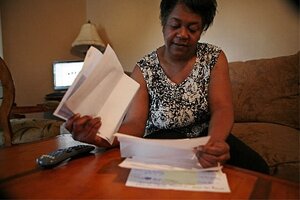 Melanie Stetson Freeman / Staff / File
Several courts in Ohio are illegally jailing people because they are too poor to pay their debts and often deny defendants a hearing to determine if they're financially capable of paying what they owe, according to an investigation released Thursday by the Ohio chapter of the American Civil Liberties Union.
The ACLU likens the problem to modern-day debtors' prisons. Jailing people for debt pushes poor defendants farther into poverty and costs counties more than the actual debt because of the cost of arresting and incarcerating individuals, the report said.
"The use of debtors' prison is an outdated and destructive practice that has wreaked havoc upon the lives of those profiled in this report and thousands of others throughout Ohio," the report said.
Chief Justice Maureen O'Connor of the Ohio Supreme Court, responding to the ACLU's request to take action, promised to review the findings. O'Connor told the group in a letter Wednesday: "you do cite a matter that can and must receive further attention."
The report says courts in Huron, Cuyahoga, and Erie counties are among the worst offenders.
Among the report's findings:
— In the second half of last year, more than one in every five of all bookings in the Huron County jail — originating from Norwalk Municipal Court cases — involved a failure to pay fines.
---