Tesla profits beat estimates; demand predicted to grow
The electric car manufacturer's increased first quarter profits were fueled in part by zero-emission vehicle credit sales to other car makers. They were also boosted by more efficient manufacturing. With the right financing, the company predicts its Model S electric car could now be accessible to 10 million American households.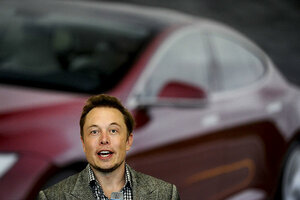 REUTERS/Noah Berger/Files
Tesla Motors Inc reported its first-ever profit that trounced Wall Street estimates on Wednesday and forecast global demand for its Model S electric car could surpass 30,000 vehicles a year.
Tesla reported adjusted earnings of 12 cents per share, triple the 4 cents per share expected by analysts, on average, according to Thomson Reuters I/B/E/S. The first-quarter results sent shares up 17 percent in after-hours trading.
Tesla now expects to deliver 21,000 Model S cars worldwide, up 5 percent from its earlier target of 20,000. But Tesla said it was already receiving orders for the Model S at a rate of more than 20,000 per year.
""There's potential for next year a fairly significant increase in volume as we really test the depth of the demand that's out there," Chief Executive Elon Musk said. "It's probably quite a bit higher than we had originally thought."
More than one million people visit Tesla's stores every quarter, executives said.
The Model S, Tesla's second model after the more expensive Roadster, is Tesla's effort to reach a broader group of buyers. A Model S equipped with a 60 kilowatt battery starts at around $70,000 before a $7,500 tax credit.
Tesla has offered a financing deal that the company hopes will make electric cars more affordable, which Musk said has already spurred a "meaningful improvement in demand" for the Model S.
"If our car was chiefly available for purchase and not by financing, I think that's maybe accessible to roughly 1 million US households," Musk told analysts during a conference call.
"As financed product with the right financing, fully optimized financing, I think it's probably accessible to the top 10 million households," Musk added.
Getting the hang of things
---