Stocks rise on hiring jump
Stocks jumped Friday on news of steady growth in hiring last month. Expectation of continued economic stimulus from the Federal Reserve also pushed stocks upward.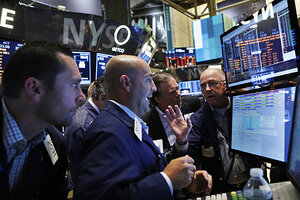 Brendan McDermid/Reuters
Steady growth in hiring last month sent the stock market sharply higher Friday.
U.S. employers added 175,000 jobs in May, slightly more than the 170,000 forecast by economists, according to data provider FactSet. More Americans also began looking for work, another encouraging sign.
The report gave a boost to stock market bulls, who expect the Fed to keep up its stimulus program as the U.S. economy continues to recover moderately. That combination pushed the Dow Jones industrial average and the Standard & Poor's 500 index to record highs last month.
The Dow Jones Industrial average had its best day in five months. It rose 207 points, or 1.4 percent, to close at 15,248.12. That gain was surpassed this year only by its 2.4 percent rise Jan. 2.
The Standard & Poor's 500 index rose 20.82 points, or 1.3 percent, to 1,643.38. The Nasdaq composite rose 45.16 points, or 1.3 percent, to 3,469.22.
Federal Reserve policy makers are now all but certain to refrain from easing back on their stimulus program at the next two-day policy meeting, which starts June 18, said Phil Orlando, chief equity strategist at Federated Investors.
"This was, in our view, very much a 'Goldilocks' number," said Orlando. "There is zero chance that the Federal Reserve is going to start tapering monetary policy."
---