E-cigarettes: Big Tobacco's next big move?
E-cigarette sales could double this year to $1 billion, analysts say. The market for e-cigarettes has grown from thousands of users in 2006 to several million e-cigarette smokers worldwide.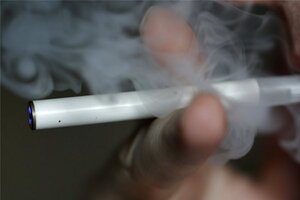 Christian Hartmann / Reuters
E-cigarettes are now being sold by all of the nation's major tobacco companies. The final holdout, tobacco company Altria Group Inc., parent company of Philip Morris and maker of Marlboro cigarettes, announced today they would sell e-cigarettes under the MarkTen brand starting in August.
It's the last of the nation's major tobacco companies to market e-cigarettes in an industry-wide push to diversify beyond the traditional cigarette business, which has become tougher in the face of tax hikes, smoking bans, health concerns and social stigma.
The Richmond, Va.-based company declined to say whether it plans to expand beyond the initial statewide test market or whether it plans to advertise e-cigarettes on TV — a place tobacco companies have long been prohibited from marketing traditional cigarettes.
During an investor presentation on Tuesday, CEO Marty Barrington said the company has "spent a good deal of time studying the category and the business opportunity."
"The category is in its early stages and time will tell how it will evolve," Barrington said.
Electronic cigarettes are battery-powered devices that heat a liquid nicotine solution, creating vapor that users inhale. Devotees say e-cigarettes address both the addictive and behavioral aspects of smoking. Smokers get their nicotine without the more than 4,000 chemicals found in regular cigarettes. And they get to hold something shaped like a cigarette, while puffing and exhaling something that looks like smoke.
More than 45 million Americans smoke cigarettes, and about half of smokers try to quit each year, according to the Centers for Disease Control and Prevention.
---