787 Dreamliner: stretch version set to be announced
787 Dreamliner with 323 seats would be used for long-haul routes in Asia and elsewhere. The bigger 787 Dreamliner is likely to be announced at next week's Paris Airshow.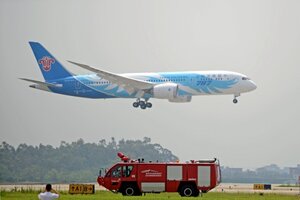 Wang Jianhua/Xinhua/AP/File
Boeing Co is poised to launch a larger member of its 787 Dreamliner jetliner family to meet demand for long-haul travel within Asia and other long-haul routes, sources told Reuters on Thursday.
Long-discussed plans for a 323-seat version of the 787 are likely to be formally announced at next week's Paris Airshow, the sources said, confirming a Wall Street Journal report.
"We have no comment on the report but we are engaged in discussions with customers on a potential new member of the 787 family," a Boeing spokesman said.
The arrival of a new 787 version has been well anticipated, especially after Singapore Airlines Ltd recently made a provisional commitment to buy the new $300 million plane if Boeing decided to go ahead and build it.
Boeing's plans attracted attention on the eve of the maiden flight of the Airbus A350, which will compete for many of the same buyers. Both aircraft are made of lightweight carbon composites to help airlines save fuel. The A350 is expected to take to the skies in Toulouse, southwestern France on Friday.
British Airways parent IAG has an option to buy more Dreamliners and there has been speculation it will use some of these to buy the larger version, known as the 787-10.
---