BART strike: One union on board, more to go.
San Francisco's transit system may have an agreement with one union, but some 2,400 employees remain on strike after two days with no Bay Area commuter trains.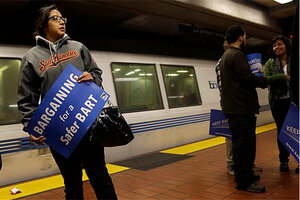 Jeff Chiu/AP
San Francisco's Bay Area Rapid Transit System (BART) reached a tentative deal on Tuesday with one union, but most workers remained on strike in a dispute that has halted commuter trains for two days, a spokesman for the agency said.
The two sides resumed bargaining on Tuesday evening after the strike by about 2,400 employees triggered a second day of painful commutes for thousands in the Bay Area who were forced onto crowded roads, buses, and ferries with no train service.
Rick Rice, a BART spokesman, said he had no details about the agreement between BART and AFSCME Local 3993, which represents mostly middle managers. That union was not on strike but its members did not come to work to show support for coworkers who were on strike.
AFSCME confirmed in a written statement that a tentative deal had been reached and said it would "strongly advise" its some 200 members to return to work at the transportation system that serves 400,000 riders daily, he said.
The strike is the first by BART employees since 1997. The two sides have been far apart for months and talks with management faltered late on Sunday just hours before labor agreements expired.
---