Stocks edge higher, helped by gold miners
Stocks overcame some disappointing quarterly performances Monday with gold and copper prices boosting mining companies. That helped nudge stocks to another all-time high.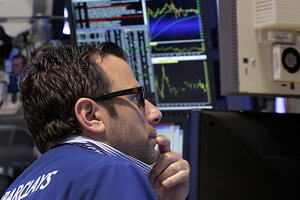 Richard Drew/AP
Mining companies and banks helped the stock market overcome some disappointing quarterly performances on Monday.
Poor second-quarter results from a handful of large U.S. companies weighed on stocks. McDonald's fell after it reported lower global sales and warned of a tough year ahead. Media company Gannett dropped after its revenues fell short of financial analysts' expectations.
But gold and copper prices boosted mining companies, and that helped nudge the market to another all-time high.
The Dow Jones industrial rose nearly 1.8 points, or 0.01 percent, to 15,545.55. McDonald's slump weighed on the index. The restaurant chain'sstock fell $2.69, or 2.7 percent, to $97.58.
The Nasdaq composite climbed 12.77 points, or 0.4 percent, to 3,600.39.
The S&P 500 index rose three points, or 0.2 percent, to 1,695.53 on Monday. The index is at an all-time high, though trading volumes were lower than average.
Investors are looking ahead a busy week of corporate earnings. More than 150 companies in the Standard & Poor's 500 stock index are reporting quarterly earnings over the next four days.
---