Boeing 777 hit with $2.7 million fine. Why?
Boeing 777: The FAA says Boeing was installing low-quality fasteners on the 777 aircraft. Now, two airlines say they have found faulty wiring on their Boeing 787 emergency transmitters.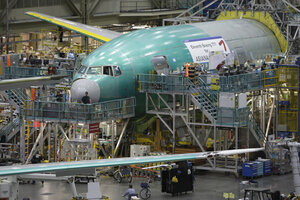 (AP Photo/Elaine Thompson)
Federal air safety regulators are seeking a more than $2.7 million fine against Boeing over quality control lapses related to parts used in the 777.
The 777 is a long-range passenger airliner. The Federal Aviation Administration says in a statement Friday that Boeing discovered in September 2008 it had been installing fasteners on the airplanes that didn't meet FAA safety standards.
The FAA opened an investigation one month later. The agency says Boeing repeatedly submitted plans that set deadlines to fix the problem, only to miss those deadlines.
The statement says the company finally implemented a plan to address the fastener issue in November 2010, more than two years after Boeing first learned of the problem.
Boeing 787 problems
Meanwhile, two airlines disclosed issues with the wiring on their Boeing 787's emergency transmitters, the same part of the plane that is getting close scrutiny after a parked jet burned earlier this month.
United Airlines said Friday that it found a pinched wire during an inspection of one of its six 787s. Earlier, Japan's All Nippon Airways found damage to wiring on two Boeing 787 locator beacons. It flies 20 of the jets.
---