Stocks slide on weak retail sales
Stocks slipped on Wall Street Tuesday on weak retail sales. A rise in US exports wasn't enough to save stocks from falling.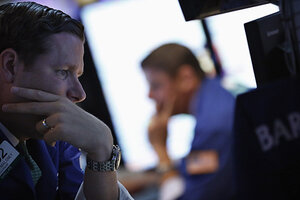 Brendan McDermid/Reuters
Warnings of weaker profits helped pull the stock market down on Tuesday, despite some positive economic news.
American Eagle plunged 12 percent after the retailer slashed its earnings forecast in half late Monday, blaming weak sales. The company said cutting prices on clothing to lure in shoppers was hitting its profit margins. American Eagle dropped $2.40 to $17.57.
Two of American Eagle's rivals also slumped. Abercrombie & Fitch lost $2.09, or 4 percent, to $49.57. Urban Outfitters lost $1.20, or 3 percent, to $42.47.
Most companies have reported better results during the second-quarter earnings season, but sales have slowed. A growing list of companies, including eBay and Marriott, has told analysts to lower their expectations for the coming quarters. The overall picture has left investors with little reason to cheer.
"Earnings have been moving up, just not spectacularly," said Cam Albright, director of asset allocation at Wilmington Trust Investment Advisors. "We'd be much happier to see better revenue growth than what we've seen."
Analysts expect companies in the Standard & Poor's 500 index to post earnings growth of 4.4 percent in the second quarter. But revenue is on track to shrink 0.6 percent.
Major indexes headed lower from the opening bell Tuesday, bottomed out around 11 a.m. then slowly recovered some of their losses. The Dow Jones industrial average was down as much as 138 points.
---