Stocks end weak August with a decline
Stocks nudged lower on Wall Street Friday on disappointing consumer spending news. It was a quiet end to the worst month for stocks in more than a year.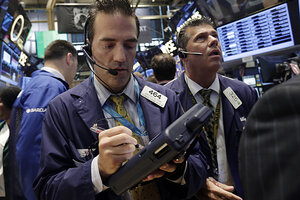 Richard Drew/AP/File
Disappointing news on consumer spending and income helped give the stock market a nudge lower Friday, in a quiet end to the market's worst month in more than a year.
The Standard & Poor's 500 index closed August with a loss of 3.1 percent while the Dow Jones industrial average lost 4.4 percent. Both had their biggest one-month drop since May 2012.
August started on a high note. On Aug. 2, news that unemployment fell to its lowest level in more than four years helped lift the S&P 500 index to a record high of 1,709.67. Then things quickly changed. Bond yields jumped, sending mortgage rates up, as investors began speculating that the Federal Reserve would withdraw some of its support for the economy as early as September.
An array of questions are weighing on investors' minds, said Lawrence Creatura, a money manager at Federated Investors.
The latest wild card is Syria. The possibility that the U.S. could strike Bashar al-Assad's regime propelled oil prices to a two-year high earlier in the week.
"The Syria situation is a strong dose of uncertainty," Creatura said. "And investors hate uncertainty."
Before the market opened Friday, the Commerce Department said that Americans' income and spending barely rose in July. Both increased just 0.1 percent. The scant rise suggests economic growth is off to a weak start for the second half of the year. It followed other reports showing steep drops in new-home sales and orders for long-lasting manufactured goods in July.
The major indexes headed lower from the opening bell on Friday and never recovered. The S&P dropped 5.20 points, or 0.3 percent, to close at 1,632.97. Retail stores and other consumer-discretionary companies led eight of the index's 10 industry groups to slight losses.
The Dow Jones industrial fell 30.64 points, or 0.2 percent, to close at 14,810.31, and the Nasdaq composite dropped 30.43 points, or 0.8 percent, to 3,589.87.
---