Stocks rise. Apple (AAPL) hurt by iPhone disappointment.
Stocks closed higher Wednesday after investors shrugged of the risk of conflict with Syria. Disappointment over Apple's (AAPL) new iPhone lineup dragged down tech stocks.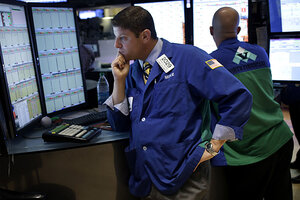 Seth Wenig/AP/File
Investors decided the risk of a conflict with Syria is shrinking and sent stock prices higher.
The Dow Jones industrial average rose 135.54 points, or 0.9 percent, to 15,326.60 on Wednesday. A big decline in Apple and other technology companies held back the Standard & Poor's 500 index and the Nasdaq composite. The S&P 500 managed a small gain, its seventh in a row.
U.S. and Russian diplomats are working on a plan that would lead to Syria giving up chemical weapons that President Barack Obama says were used against civilians. Obama said the U.S. will explore a possible diplomatic solution, though the U.S. military remains ready to attack.
After a tough August, stocks have been rising in September. The S&P 500 is up 3.4 percent so far this month. Since September began, a U.S. strike on Syria has gone from seeming imminent to being something that may or may not ever happen.
---