Stocks break 7-day rally
Stocks closed slightly lower on Wall Street Thursday, breaking its longest rally since July. Developments in Syria continue to impact stocks.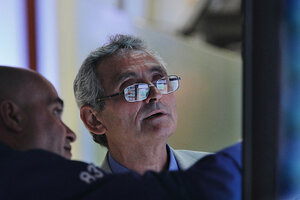 Brendan McDermid/Reuters
The stock market closed slightly lower Thursday as the longest rally since July petered out.
The Dow Jones industrial average edged down 25.96 points, or 0.2 percent, to close at 15,300.64. The Dow had gained 404 points over the previous three days and is still up 3.3 percent this month.
The last three days of gains have helped the Dow recover the bulk of its losses in August, the worst month for the blue-chip index since May 2012.
The Standard & Poor's 500 index fell 5.71 points, or 0.3 percent, to 1,683.42 after rising the previous seven days. That was the longest winning streak since a string of eight gains between July 3 and July 15.
The Nasdaq composite fell 9.04 points, or 0.2 percent, to 3,715.97. That followed a sharp decline Wednesday caused by a sell-off in Apple's stock.
The Dow did better than other indices because of Walt Disney, which jumped after the company said it plans to buy back up to $8 billion of its own stock starting next year. Disney rose $1.55, or 2 percent, to $65.49.
Traders continue to watch developments in Syria, where Syrian President Bashar Assad said Thursday his government has agreed to surrender its chemical weapons in response to a Russian proposal, not because of the threat of an attack from the U.S.
"Syria is still there as a concern, but it's starting to de-escalate," said Richard Sichel, chief investment officer at Philadelphia Trust Co., which manages $1.9 billion in assets.
---