Larger version of Boeing's Dreamliner makes its first flight
Boeing's new 787 had its first flight on Tuesday. About 41 percent of Boeing's unfilled orders– about 388 planes–are for the 787-9.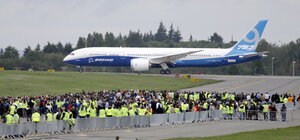 Elaine Thompson/ AP Photo
A longer version of Boeing Co's Dreamliner successfully completed its first flight on Tuesday, passing a key milestone for a plane expected to be more profitable for Boeing to sell and its customers to operate than the current production model.
The 787-9 jet, which landed at 4:18 pm PST (2318 GMT) at Boeing Field in Seattle, has room for 290 passengers, 40 more than the original 787-8 jetliner, and has about 300 more nautical miles of range.
The flight brought no immediate bad news for a plane that has been plagued by problems from minor issues with its brakes to electrical panel fires and overheating batteries that caused the 787-8 fleet to be grounded for three months earlier this year while Boeing redesigned the battery system.
"We call that a no-squawk flight," Capt. Mike Bryan, senior project pilot for the 787-9, said after landing, referring to minor problems that often crop up on new planes.
He said there were some small "setting up" messages that were present before the flight, but these were not new issues. The messages don't prevent the flight but need to be checked before take off, Boeing later said.
---