Stock market drops as investors fret over budget fight
Stock market took a hit from Washington's budget battle Friday. A showdown over federal spending sent the stock market plunging in an afternoon sell-off that wiped out all the gains from a rally earlier this week.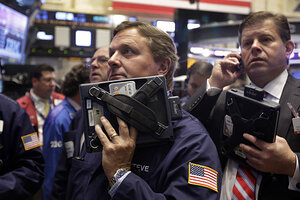 Richard Drew/AP
Washington's budget fight jolted Wall Street on Friday, reminding it that the next few weeks could bring a lot of uncertainty.
Investors hate uncertainty, and stocks plunged in afternoon sell-off that wiped out all the gains from rally earlier this week, when the Federal Reserve kept its huge economic stimulus program intact.
Major indexes were mixed in morning trading, but turned lower around midday after the U.S. House of Representatives voted to defund President Barack Obama's health care law.
The vote itself wasn't a surprise, but it reminded investors that the Republican-led House and the Democratic-controlled Senate are poised for a showdown over federal spending.
The debt ceiling must be raised by Oct. 1 to avoid a government shutdown, and a potential default on payments, including debt, later in the month.
"What we've done is basically committed ourselves to two weeks of worry," said Sam Stovall, chief equity strategist at S&P Capital IQ.
---