Stocks fall on budget fight, economic worries
Stocks closed down on Wall Street on concerns about the economy Monday. A looming budget fight in Washington also weighed down stocks.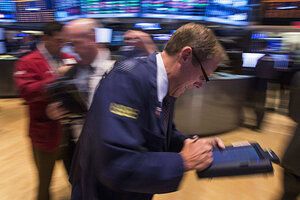 Lucas Jackson/Reuters
Concerns about the strength of the economy and the potential for a budget fight in Washington pushed down the stock market Monday.
The Dow Jones industrial average and the Standard & Poor's 500 index fell for a third straight day.
The Dow jumped 147 points last Wednesday to close at an all-time high after the Fed decided to keep its huge economic stimulus program intact. But that rally has been wiped out by anxiety over a budget and debt fight in Washington over the past three days.
Investors initially cheered the Fed's surprise decision to keep its stimulus in place because the program has helped sustain a bull run in stocks dating back to March 2009.
Doubts have crept into investors' minds, however, because the central bank thinks the economy isn't strong enough for it to pull back the stimulus. William Dudley, the President of the Fed's New York Branch said Monday that while the economy was improving, "the headwinds" created by the financial crisis were only easing slowly.
"At first blush (the stimulus) looks positive," said Kate Warne, an investment strategist at Edward Jones, a financial advisor. "But at second blush it says conditions weren't as strong as we were previously thinking. Markets are now responding to that."
---