Government shutdown affecting military death benefits: Charity steps up
Government shutdown affecting military: Fisher House Foundation has offered to pay the military death benefit of $100,000 while the government shutdown continues.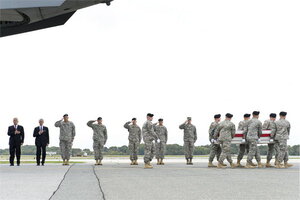 Roland Balik/U.S. Air Force/Reuters/Handout
The Obama administration, scrambling to tamp down a controversy over suspended death benefits for the families of fallen troops, announced Wednesday that a charity would pick up the costs of the payments during the government shutdown.
"The Fisher House Foundation will provide the families of the fallen with the benefits they so richly deserve," Defense Secretary Chuck Hagel said in a statement, adding that the Pentagon would reimburse the foundation after the shutdown ended.
Hagel said Fisher House, which works with veterans and their families, had approached the Pentagon about making the payments. The Defense Department typically pays families about $100,000 within three days of a service member's death, but officials say the shutdown was preventing those benefits from being paid.
A senior defense official said the government could not actively solicit funds from private organizations but could accept an offer.
The failure to make the payments has stirred outrage on Capitol Hill and at the White House. Obama spokesman Jay Carney said Wednesday that the president was "disturbed" when he found out the death benefits had been suspended and demanded an immediate solution.
---