Stocks rise as debt limit talks continue
Stocks rose for the second day in a row Friday as investors bet against a US debt default. Signs of compromise in Washington have pushed stocks up.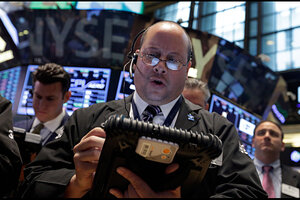 Richard Drew/AP
The closer Washington gets to a deal over the debt ceiling, the higher stocks go.
Stock prices rose for a second day in a row on Friday as investors bet against a U.S. debt default. The Dow Jones industrial average rose 111 points Friday, bringing its two-day gain to 434. Its jump on Thursday was the biggest this year.
Call it the Sigh of Relief Rally.
A partial government shutdown pushed the Dow below 15,000 this week before President Barack Obama and House Republicans met on Thursday to talk about the outlines for a possible deal. Obama and Republican senators met on Friday, too.
Stocks set new highs in mid-September but declined steadily since then as the federal government got closer to the partial shutdown that began Oct. 1. That shutdown entered its 11th day on Friday.
Even more troubling for investors is the expectation that the government will reach its borrowing limit on Oct. 17, which raises the possibility of a default on government borrowing. U.S. government bonds are usually considered the world's safest investment, so even the possibility of a default has rattled investors.
"It's nice when the world does not revolve around politicians making decisions for Wall Street," said Ralph Fogel, investment strategist and partner at Fogel Neale Partners in New York.
The Dow rose 111.04 points, or 0.7 percent, to close at 15,237.11. The Standard & Poor's 500 index rose 10.64 points, or 0.6 percent, to 1,703.20. The Nasdaq rose 31.13 points, or 0.8 percent, to 3,791.87.
---